It has been a long week. At least it is almost over! We have been battling The Plague here lately. Poor Haley was so so sick on Monday, she spent the entire day laying on the couch falling asleep between watching cartoons (and it's a measure of just how sick she was that I didn't object to letting her watch TV all day long, not my favorite thing). Savino started getting sick Sunday night with an unbelievable diaper blowout. I will spare you details, but while Haley recovered by Tuesday morning (though all of Monday was spent too sick to even eat), Savino is still not completely right. Poor bubs. He just isn't interested in eating, but is still nursing and taking a bottle without any problems, so he isn't too bad, but his butt is not right. Again, I will spare the details, let's just say it's not pleasant. I will be glad when he is completely recovered.

Easter was alright, we had a lot of people up in the house even though none of Tim's siblings came. It was his mom and dad, Jay and Eleni and Chyron, Eleni's Mom and Dad and her Mom's Mom (Who goes by Yaya), and Laila and Jaden, Haley and Savino. The kids went NUTS. It was a madhouse! Our house is pretty big, but they somehow managed to make it feel small with all their running through the house and screaming and carrying on. We just let them run wild, they kept each other entertained though I think poor Jaden was a little overwhelmed. At just a year old, he can't quite keep up with the bigger kids, though he gave it a good try. He had to take refuge on my lap a few times and finally just went into the other room and played mostly by himself with all of Savino's toys. Savino held up really well, all things considered. He didn't have any stranger anxiety for a change and even let Tim's dad hold him without any complaints. We had MASS amounts of food. We had so much leftovers that even after sending food home with people, we still had leftovers. In fact, I still have turkey and tiramisu leftovers in my fridge and it's been 5 days. So yeah, I think it went pretty good.

It wasn't without drama, of course, but I have decided that I am setting the drama free and not going to let it involve me. It's not my problem. That's my mantra. It seems a little cold to just not let other people's problems become my problems but I'm happier, my family is happier, when I am not obsessing over how I can fix something that is beyond all my reach to fix. If that seems obscure, sorry, but just explaining what it is that I'm not embracing would be going into the drama, so... Yeah.

I did get some really nice pictures of the kids on Tuesday before Haley had to go back to school on Wednesday. Some of them I am not entirely pleased with because I somehow shot too far to the left and the only fix would be to crop into them too far from the right, but oh well. I never claimed to be a professional photographer. I am still happy with them and am hoping that once I have done enough processing on them, I can order some good sized prints from Snapfish. My goal is to be done with photo studios like Olan Mills and the Wal-mart studios. I get so frustrated taking the kids there, it's always more expensive than I plan for, it's always so DIFFICULT to get good pictures from those places, so if I can passably replicate those pictures at home in my ghetto studio, all to the better. So, Easter pictures...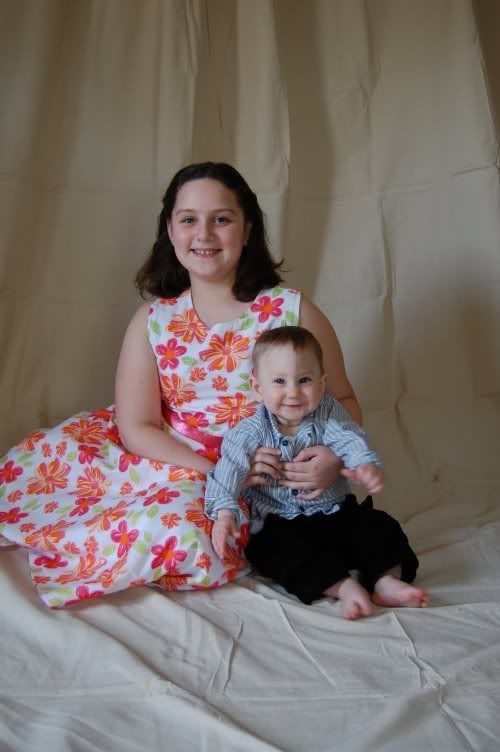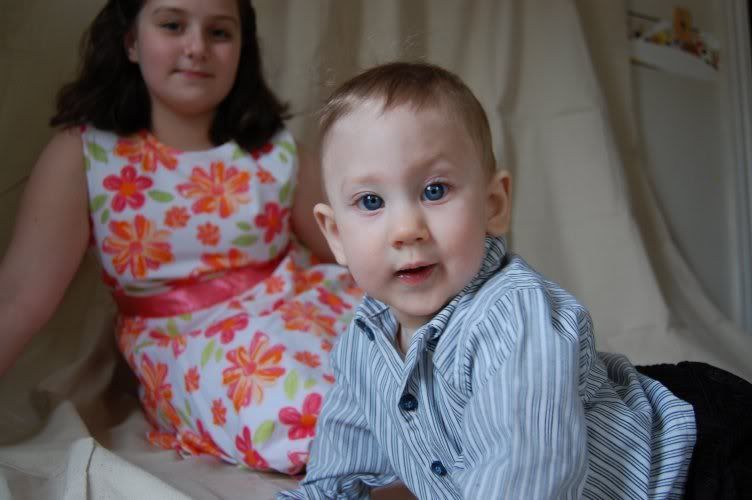 I think my favorite one is the one of Haley looking down at Savino who is looking up at her. So cute, even if it is a bit blurry. I can see the resemblence between them so much more when they are sitting together like that. Everyone keeps saying, "Savino looks so much like Haley!" or "He looks like you!". It wasn't until I got out a baby picture of me at about the same age as him that it becomes really apparent that he really DOES look like I did as a baby. I can see the Tim in him too, but he is definitely my child! Haley looks/ed so much like Tim and Chantal, and only now that she is getting older looks like me, I think.

Anyway, we have a big weekend coming up and hopefully it will hold off on the raining. It has been in the upper 40's so far this week, which is so nice, I will be thrilled if it sticks around, but I am not holding my breath either. As soon as I say, "Ah, Spring" it snows again. So whatever. Spring will never be here!

Savino has finally cut me a little slack on the sleeping thing. We have been getting about 5 hours uninterrupted sleep lately and that is a big relief. If only my insomnia would cut it out. I spent over a year going to bed before 11 and now I have a hard time winding down enough to go to bed at 11, let alone fall asleep. I am not giving up though, when you have to wake up at 3am and then get up by 7:30, you just can't stay up late. It just doesn't work. The boy will be 7 months old on Saturday. It seems UNREAL. Wasn't he just born yesterday? Before I know it, we will be planning his first birthday party. Crazy!

Well, I ought to wrap this up before Tim gets home. We have errands to run as soon as he gets home, of course. Fun fun fun.