Well, it's been awhile! Savino had an up and down night again last night so I am feeling it today. Tim has spent the last four days out at the Little House working but it is going so slowly. *sighs* We were hoping he would be done by now, but he still has to finish the baseboards around the bottom of the new kitchen floor, put down the peel-n-stick tile, reinstall the kitchen sink and cabinet, relocate the dishwasher, put a new threshold in for the kitchen door, and move two couches out of the house. I have to vaccuum and steam clean the carpets and put up curtains in the bedroom, but all of that I can do once Tim is done and I can go out at night and do it after the kids are in bed. Actually I might go out and do some tomorrow. Tim had the a/c running today with the doors closed and it wasn't too hot for the kids, though they were both excruciatingly bored after a little while. Poor Tim. I hope he is able to finish enough up tomorrow that our renter can at least start moving stuff in. At least the floor is down, that is a huge improvement over bare dirt and concrete.

Ok, so pictures. Misc. pictures, some from a picnic we went on to the park, some from portraits.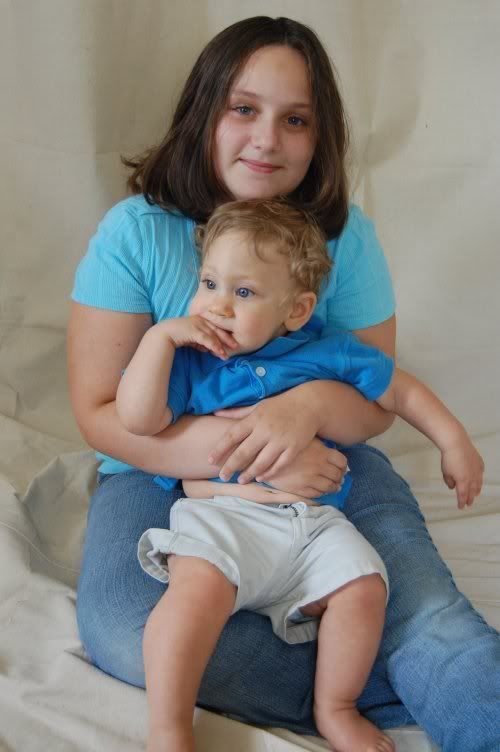 Haley and Savino, who won't look in the right direction!





Miss Haley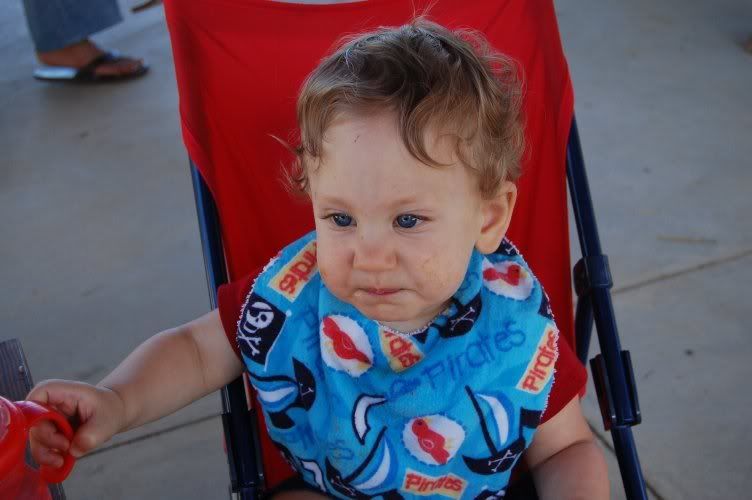 Savino banging with his cup.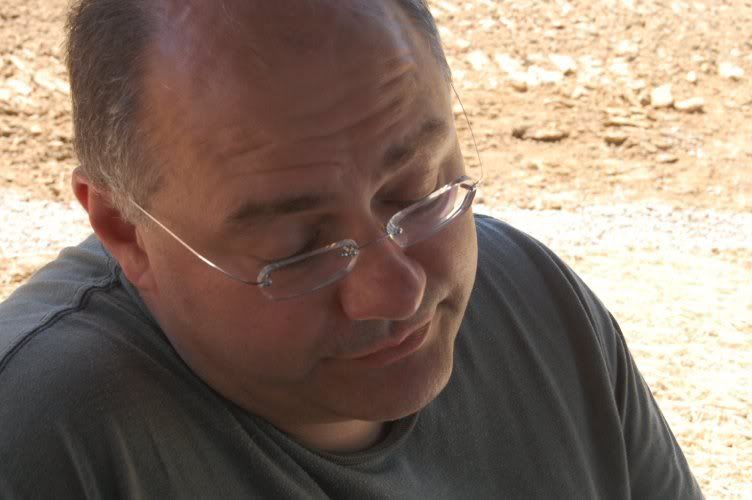 Tim, giving me his usual "Must you?" look. Thanks hun!





Cheyenne! The dogs were pleased to be included in the picnic.





Savino, giving Cheyenne's leash an experimental tug.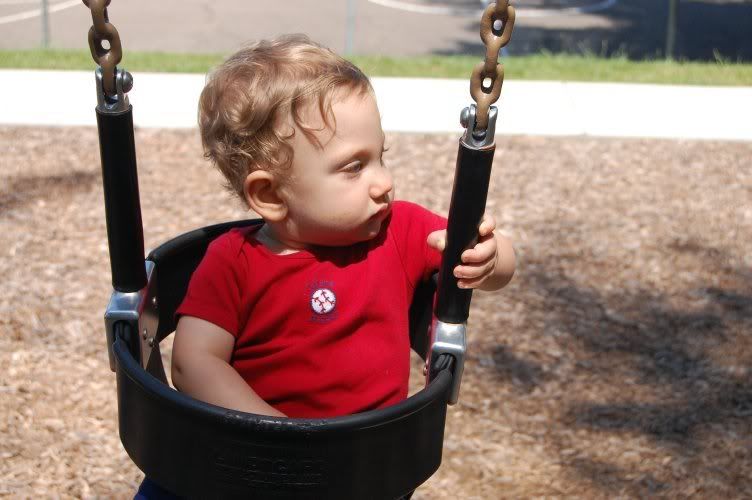 Swinging and watching Haley who was on the tire swing next to him.

So. Yeah. My days have been pretty lame lately, we have breakfast together and then Tim leaves for the Little House and we hang out and then we go to the store after lunch and take Tim some lunch and then come home and make dinner and I get the kids into bed. That's it. Scintillating. Well, you do what you have to. It's just not been much of a vacation for Tim. I think he is kinda looking forward to going back to work where at least he will not have to do brute manual labor. He is so irritated by all the work he has to get done, but this is what comes of him putting it off and off and off. I am highly doubtful that he will get everything he needs to get done done by tomorrow night. I don't know, maybe it will go faster now that he has the floor done, but I doubt it. At least it is getting closer to being done.

Savino is beginning to shun the baby food. I have mixed feelings about this, on one hand I think he is a little young to start really eating table food, on the other I am ready to be done with baby food myself. He is almost 11 months old. I am kinda in denial about this. Soon he will be a YEAR OLD. He has started cruising around holding onto things, he can go from side to side on the couch and along the inside of his play yard. He will stand and just hold on with one hand so his balance is starting to get a lot better, soon enough he will be standing unaided. He has one molar starting to break through the gums, his back left one year molar, part of it has already erupted but it is taking its sweet time about coming all the way through. He is constantly chewing on his fingers!

Our summer is already half over, it seems impossible. I am ready to get back to our summer schedule though, now that Tim is going back to work in a few days, we can get back to going to the library and the pool and bowling. We only have about five weeks left so we have to cram it all in!

Hm, I think I hear the baby stirring so I better wrap this up. I suppose things are finally starting to get back to normal. I'll have to do all vacation pictures soon. And I did a DITL but I haven't even had a chance to edit it yet, and it's been literally almost two weeks. Oh well.