Well, my freezer is officially FULL. I can't fit anything else into it. There was an unholy crowd of people at the store today too. Meat sales bring out the crazy in some folks it seems.

I got to have lunch with Tim today! Yay! I took the baby up to the hospital so he could show him around and then we went to Steak n Shake where I had a lovely salad. (Fun right?) Tim had to go to the guitar shop after lunch to look around, of course.

Tim finally got his bonus check, he was very happy about that. It was a little more than I thought it would be, so that made me happy too. I am thinking about getting a new vaccuum cleaner. Tim says I should get something fun but I think that we really need to be responsible with this money, we have a lot of work to do on the little house this summer.

I took the baby outside and sat him on the lawn yesterday, it's the first time he's been on the grass. He loved it, he kept patting the grass and leaves and babbled while I worked on cleaning some leaves out of the flower bed. I kept checking on him because I was waiting for him to stick something in his mouth. I looked up to see him cram a leaf into his mouth. !! I managed to get it out before he did more than get it gooey but after that we had to cut the outdoor experience short because he wouldn't stop trying to eat the grass and every time I said No and took some off him he laughed at me and grabbed another handful.

Pictures, of course.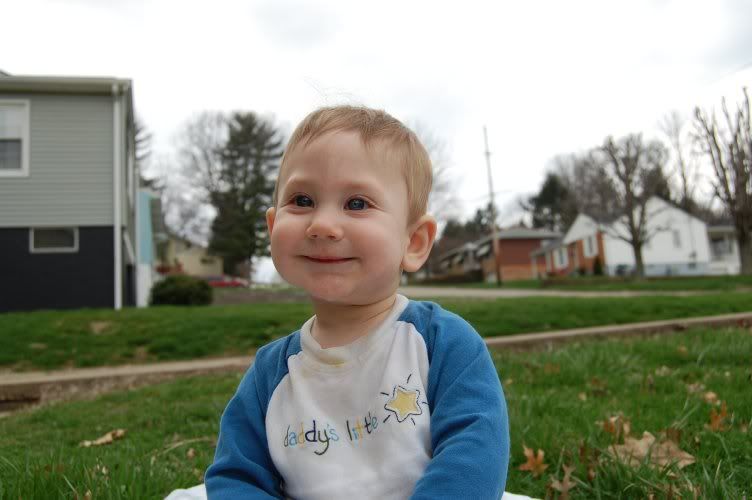 I am frantically knitting and trying to finish this stupid baby hat before Eleni's baby shower. Well, the hat is not stupid, it is terribly cute in fact, but this pattern is SO BORING. I am not a fan of ribbed knits because they are tedious to knit, knit 2 purl 2 repeat until you want to jab your eyes out with a knitting needle. The only good thing about it is that you can put it down and walk away from it and not lose your place. That's a major bonus when you can only knit one or two rows at a time. I have 9 days to finish this hat. Um, pray for me.

9 days until Eleni's baby shower! Eep! I need to pick up cake supplies this weekend and do some favor and gift shopping. I have to get a tentative head count from Eleni's mom so that I know how many favors to make up. I have to get supplies for my games too, I am trying really hard not to have any lame party games. I am also having a hard time figuring out how many games we ought to have, I am in the "more is better" camp, but likely there will be a lot of older women there who might not be into playing a lot of games. Oh well, they'll just have to suck it up!

Well, the baby is starting to stir again, I ought to wrap this up so I can go tend to him. Fun fun fun.